I have never really been an early adopter of Apple products. I was gifted an iPod in 2008. My first MacBook was only in 2010. I went from an iPhone 3GS to 5S. But this time, peer pressure got the better of me, by which I mean that a friend begged me to get an Apple watch.
It's still early days but here's my first impressions…
Hardware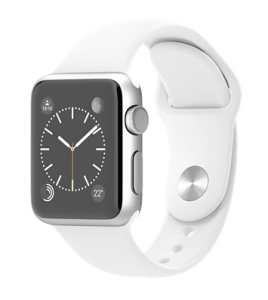 I got the 38mm Sport with a white band. It looks pretty good on my fairly petite wrist. Those who know me know that I generally dress quite formal most of the time, and it blends in well, while still providing a little fun contrast.
When I first put it on my wrist, it felt very heavy and quite thick for someone who hasn't worn a watch for over 15 years. Perhaps I will get used to this?
The way the sport band works takes a little getting used to, but it's quite effective. I have a small wrist, but there is enough settings to get a snug fitting. I was a bit anxious about wearing a rubber band on my wrist – didn't think it was cool and fashionable – but it actually looks and feels much better than I thought.
The digital crown works well, but I'm not sure it feels quite as amazing as the promotional videos make it out to be. It just works. I've tried the button on both sides (top right and bottom left) but I'm not sure which I prefer. It's nice to have the choice and I haven't noticed any issues with wearing it upside down, so long as you make the change in the settings.
The screen is gorgeous. Blacks are truly black and the pixels are invisible to my eyes. It's impossible to see where the screen ends and the bezel begins. Apple's screen tech has always been impressive, so this no longer surprises me. (Another case of a delighting feature becoming an expectation over time.)
The battery lasts at least a whole day, sometimes two. This was something I was concerned about beforehand, given that I run my phone battery down every other day at least.
In terms of wear and tear, I haven't managed to scratch the screen or the anodized aluminium yet. Given that I wear it during X-fit workouts, I'm certainly giving it a fairly hard time, but I'm usually quite careful with gadgets. Never have I worn one though…
Overall, the hardware is impressive. Carrying technology is different to wearing it, especially for those of us who are fashion conscious. I simply wouldn't wear any of the other "smart" watches I've seen so far.
Software
The software feels like a 1.0 version, perhaps even a little premature? The choices of watch faces (with "complications") are great and I find the Glances useful. Most of the 3rd party apps I've played with so far are disappointing though.
One app I find quite compelling is the Activity Monitor. With information about my daily activity, walking and standing more visible to me I feel encouraged to be more active. Quite often I find myself standing up and moving around when it taps me, and I also monitor whether I am completing each of the three rings each day.
Conversely, the Exercise app is… disappointing. Before buying, I was expecting this aspect to be one of the more compelling use cases. Then I realised that you need start the workout manually. With all the embedded sensors, I would have thought it could work out automatically when I'm moving a lot and my heart rate is increased. On top of this the options for exercises are quite limited: walk, run, cycle, rowing, stair stepper and elliptical. There is definitely room for improvement here.
The thing that annoys me the most is actually the Notifications. I set it up to mirror notifications from my phone, but this may have been a mistake. When my phone was in my bag this was a manageable approach, but with the same level of notifications coming to my wrist this is overwhelming and annoying. It keeps buzzing all the time. To avoid this, I could turn off notifications on some of the apps, but that wouldn't quite be right. I'd still want to get notifications when some specific contacts (as set up in my favourites list, for instance) regardless of which app it comes through. There is potential to improve here, by making notifications much smarter and more oriented toward the source of the notification.
Which way?
It's when using the watch as a navigation aid, that it shows significant potential. I frequently travel to new places for work, so I have a constant need to navigate in unfamiliar territory. I have also moved around a bit – having lived in 7 countries including 5 years in Denmark. Each time I move to a new country, it takes a while for me to learn what's around, where things are, how to get from A to B.
Unlike most of the guys I know, I rarely wear clothes that have pockets, so my phone usually hangs out in my handbag. When navigating, this means periodically digging around to find my phone in order to check whether I'm on the right course, and where to go next. Having all this on my wrist makes this much easier and faster. Where it gets really nifty is getting discreet tap signals when it's time to turn left or right. I can keep my eyes on my surroundings rather than peering down at a screen. If you've ever struggled with your hands full (bag, coats, coffee, umbrella etc) this is great.
And then there's the "navigating while riding a bike" job-to-be-done. When I first moved to Copenhagen (in the days before smartphones), I carried a thick, large map in the front basket of my bike. I would have to stop every few minutes to check I was on the right track. The paper map eventually got replaced with a smartphone, which improved the convenience, but it still required digging out, or one-handed cycling with eyes not on the road ahead. Now, I can't imagine a world without a GPS device and on board maps everywhere I go. I wonder if in the future we will struggle to imagine life without tap navigation on our wrists?
There has been many thoughts about what the Apple Watch will be for, what job it will be hired to do. Once people get past the watch face ("Awwww, Mickey Mouse! So cute, how he taps his toe!"), the inevitable question follows: "What are you using it for?"
Well, I am still experimenting with it, and I expect later software (and hardware) improvements will probably make it a must have device.  In the meantime, I have already discovered a couple of jobs-to-be-done that got a lot easier, faster and perhaps safer with the Apple Watch.